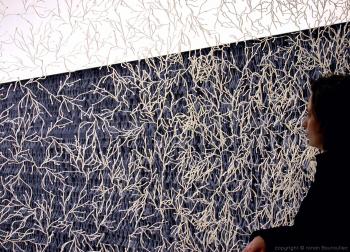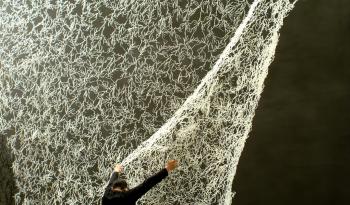 This is an older project (2004) also by the fantastic design duo
Ronan & Erwan Bouroullec
. Entitled "Algues", these screens are made to look like Twigs and Algues and can be used as art/screen/divider .... loving it!!!
"The common idea is to approach architecture from the millimetre. Or how the repetition of a same motive brings to a larger scale. The Algues and Twigs modules become kind of raw materials, destined to be transformed. They have their own mode of assembly, which is more specific than that that of wood or metal. But they require no tool but for a pair of hands. Using the hand as the only tool is for us a means to free the construction process from the issue of skill or knowledge. We tried to make them as easy to use as a pencil and a piece of paper."
Like a weave, a plant, a cloud, the surfaces created by the algae and the twigs form an ensemble which can be taken in one look but which intrigues by its complexity.The main issues with the algae and the twigs are firstly the way in which they are put together and then their relationship to the space they are to occupy.
From their website
http://www.bouroullec.com/